The Twin Town Challenge is back for 2022
Friday 29th April – Monday 2nd 2022
What is the

Twin

Town

Challenge?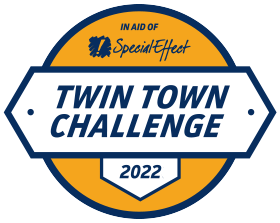 Twin towns, 100 cars, 1 amazing weekend! The Twin Town Challenge is a fun, team-based car challenge. Buy a £500 banger, add your own style and drive it from Oxfordshire to Le Touquet, France, competing in challenges along the way. All to raise money for technology charity SpecialEffect.
The Twin Town Challenge is organised by Brendon Cross, STL Communications.
Brendon said: "We are delighted that all our sponsors and teams have waited another 2 years to take part in this amazing spectacle. This is the final ever Twin Town Challenge and the more cars that participate, the more likely it is that we will hit our fundraising target for SpecialEffect of over £1m. All the costs of the event will be covered by sponsorship, which means that every pound paid by the teams in entry fees as well as the fundraising by the teams, goes straight to the charity."
Teams are already starting to plan their car decoration and fancy dress based on the theme of 'Battle of the Bands'. They compete for points with a programme of fun challenges in and around Le Touquet including a day at Abbeville circuit.
Brendon adds, "We're looking forward to seeing people dressed as Abba, Village People, Spice Girls and Queen driving around northern France in London taxis and stretched limos as well as more ordinary vehicles specially decorated for the event."
Click here to read the full press release.
Supporting a

Unique

Charity
SpecialEffect is an amazing charity that puts fun and inclusion back into the lives of people with physical disabilities by helping them to play video games and communicate using technology. The money raised by the Twin Town Challenge helps SpecialEffect put fun, freedom and inclusivity back into people's lives.